Maternity Yoga & Pilates Clothes
If you love yoga and Pilates, the chances are you'll want to keep up your practice whilst you're pregnant; it's a great way to stay active and learn more about breathing and relaxation techniques. We've also met so many women who discover yoga and Pilates for the first time during their pregnancy and never look back.
Over the years we've received so much wonderful feedback from women, who've found our super soft, eco-friendly and supportive maternity yoga clothes ideal for pregnancy and beyond.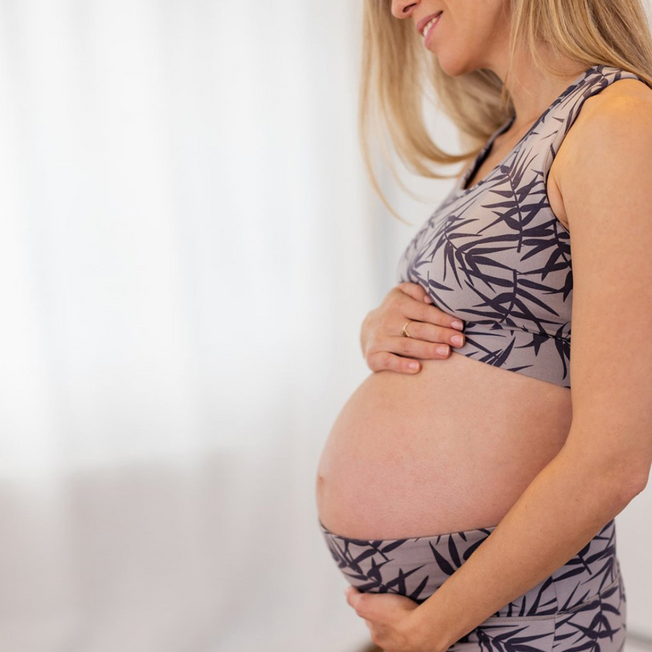 Wearing maternity activewear during pregnancy
Our collection of maternity yoga pants, tops, t-shirts and leggings are made with sustainable bamboo and organic cotton, which are incredibly soft and comfortable to wear - perfect for growing bumps.


Our fabric is Oeko-Tex certified - processed without the use of harmful chemicals in the dyeing and finishing. This makes it particularly good for sensitive skin, a common side effect of pregnancy, due to increased hormone levels and your skin stretching as your baby grows.


Activewear post pregnancy
Looking after a new-born baby is a wonderful, all-consuming (and tiring) feat. Asquith maternity activewear have been described as 'comfort clothes', so perfect to wear after a long night (sadly not painting the town).
Everything we design is multi-functional and timeless – so you can enjoy our maternity clothes as much as possible, for as long as possible.
We recommend the following yoga pants and tops for maternity
Maternity Yoga Tops
Peace Bra - Magenta
We know that underwired bras aren't always your friend when pregnant. Step forward the Balance Bra Top. A medium support bra, made with our natural performance fabric, Bambor®, that's so comfortable you'll forget you're even wearing it.
Shop Now
Maternity Yoga Pants & Leggings
Flow With It Leggings - Navy
We had so many requests for high waisted leggings we had to make them for you this season. Made in Bambor®, they have a three layer fabric high waistband that will gently support you all day, on and off your mat. So we are living in this new style.
Shop Now
Embrace Tee - Flint
A classic ¾ sleeve tee that ever so gently blousons around your waist, so it's super. The fitted hem, means it won't ride up on your mat.
Shop Now
Long Harem Pants - Navy
These are set to become the most useful and comfortable pants you'll own. The wide cuffs and fold down waistband mean they're staying put in even the toughest class.
Shop Now
Be Grace Batwing - Grey Marl
A favourite Asquith top, season after season. Flattering and so versatile. Fitted at your hip but slightly loose on your tummy – perfect on and off the mat. Fitted at your hip but slightly loose on your tummy.
Shop Now
Dreamer Pants - Indigo
These bamboo pants are truly dreamy. The deign makes them as comfy to wear as they are flattering. Ideal for your softer yoga practice and I-don't-want-to-get-off-the-sofa days.